Devon nursery worker arrested over indecent child images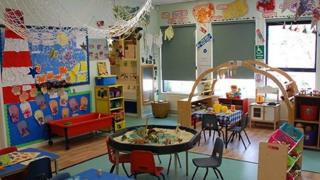 A man employed by a nursery has been arrested on suspicion of possessing and distributing indecent images of children.
The BBC understands the alleged offences are not connected to Mama Bears Day Nursery in south Devon where he was employed.
The man, 43, from Paignton, has resigned from his position, Devon and Cornwall Police said.
He has been released on bail until 5 May.
A spokesman for the nursery said: "An ex-employee from our Queen Elizabeth Road and Long Road nurseries has been arrested in conjunction with downloading indecent images of children... There is currently no evidence to link these images to the nursery.
"We always take the safeguarding of our children very seriously."
A spokesman for South Devon College, where the nursery is based, said Mama Bears was a separate facility.