Smiths News cuts 60 jobs in Plymouth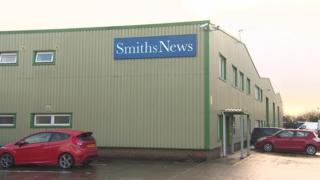 Sixty people will lose their jobs at a newspaper and magazine distributor in Plymouth, the company has said.
Staff at Smiths News were told about the job cuts - which will happen in April - on Wednesday.
The magazine side of the firm, which makes up the majority of the workforce, is moving to Newport, bosses said.
The company added that part of the business will remain in Plympton. The firm claims to be the UK's leading newspaper and magazine wholesaler.
A company spokesman said: "Plymouth is an important location for distributing newspapers to our customers in the South West and this side of the operation would remain at our site here in Langage."
"We do not have any plans to change the operations in our smaller Newspaper Distribution Centres in the South West."
These include depots at Redruth, Bodmin, Barnstaple, and Exeter.
Dave Springbett, Regional Trade Union Officer for the Unite Union said: "I don't believe they are minimum wage jobs, they are jobs that are paying higher than that and for that reason it will be a loss to the south west, particularly around Plymouth".