Western Morning News on Sunday scrapped and 'handful' of jobs to go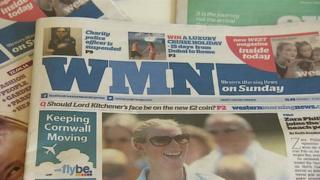 A Sunday newspaper has been scrapped with the loss of about six jobs, it has been confirmed.
The Western Morning News on Sunday was launched in June 2014 and sold 20,000 copies on its first day.
Editor Bill Martin said it had ceased publication with immediate effect as there was not "sufficient demand".
The paper is owned by the Trinity Mirror group and covers Devon, Cornwall and Somerset.
The newspaper group confirmed a "handful" of people faced redundancy and it was talking to affected employees.
The news comes two months after Trinity Mirror bought the Local World group in a £220m deal.
The Western Morning News, which has seen circulation figures drop from 31,971 in 2010 to 24,977 in 2014, will continue to be published Monday to Saturday.
The group also revealed the Western Morning News website would merge with The Herald, which covers Plymouth, parts of south east Cornwall and South Hams.
Mr Martin said: "We are sorry to announce the end of the Western Morning News Sunday edition, but accept there is not sufficient demand for that format.
"The newly-merged Herald website... [will] enable us to continue to focus on news coverage and relevant local content as well as specialist niche coverage."
Trinity Mirror made similar changes in Newcastle in July when the more rural Journal website merged with ChronicleLive.
Rob Brown, head of journalism at Falmouth University, said: "This isn't at all surprising news.
"What was surprising was that Western Morning News spawned a Sunday edition at a time when the migration from print to online platforms was already such a well-established trend among media consumers and producers.
"There was never any chance the WMN on Sunday could buck that trend. The future of journalism lies in multimedia storytelling."