Princess Yachts in Plymouth to cut 350 jobs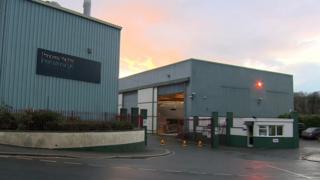 Luxury yacht builder Princess Yachts is to cut 350 jobs.
The Plymouth-based company, which has more than 2,000 staff, said it was starting redundancy consultations as part of a large-scale restructuring.
It expected jobs to go in back office areas, plus the development and production departments, after what it described as a gruelling year for the industry.
The union Unite described it as a "big blow" for those affected.
The firm said while "regrettable," the move formed part of a strategic plan to boost productivity.
'Always a tragedy'
Chris Gates, Managing Director of Princess Yachts, said: "The strategic review of our business and the steps we are taking to improve production at our Plymouth headquarters have laid the foundations for an ambitious year."
Dave Springbett, Regional Officer for the Unite union said: "It's terrible news to be honest especially for Plymouth.
"We struggle with attracting and maintaining good quality manufacturing jobs down here. It's a big blow.
"I'm very hopeful we can reduce the number, and the union will do everything we can to help those affected," he said.
George Cowcher, of Devon Chamber of Commerce, said: "It's always a tragedy for any individual when they lose their job, but in these economic circumstances at the moment we do have other companies who are actively recruiting".
The firm marked 50 years in business last year.