Exeter Lidl depot expected to create 450 jobs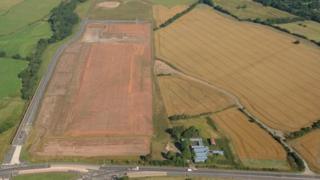 A major new distribution centre is expected to create 450 jobs in Devon.
In 2013, Sainsbury's said it was postponing plans for a depot on the site, near Exeter Airport.
Last year the BBC revealed the company was in talks with rival supermarket Lidl about selling the land.
After months of discussions, the firms have since exchanged contracts. Business leaders said it was "great news" for the South West's economy.
More on this story and other news from Devon and Cornwall
The site is at the £2bn Exeter and East Devon Growth Point economic development zone east of the M5.
In 2013, Sainsbury's said there was "no immediate requirement for a depot" following a review, despite planning permission being granted in 2011.
---
Analysis: Simon Hall, BBC South West home affairs correspondent
The deal is a graphic illustration of the changing times in the supermarket sector.
Just a few years ago, Sainsbury's was such a dominant force that the idea of them selling a flagship site for a new supply depot to a newcomer like Lidl would have been unthinkable.
But this shows just how successful the discounters have been in winning market share and turning around the UK's long-established supermarket hierarchy.
---
Sainsbury's told the BBC the contracts had exchanged and Lidl said the depot was part of its "ambitious growth plans for the UK".
Tim Jones, chairman of the Devon and Cornwall Business Council, said: "This is great news. It's a huge vote of confidence in the local economy."
Councillor Paul Diviani, Conservative leader of East Devon District Council, said: "We are delighted. This is an important facet of all we're trying to do in making the Growth Point a hub of commerce."