Devon battery hen rehome woman Jane Howorth gets MBE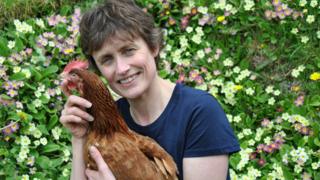 A woman who collects unwanted battery chickens and gives them a new free-range life has been made an MBE.
Jane Howorth, 55, from South Molton in Devon, was inspired after watching a BBC documentary about battery hen farming in 1979.
She has collected thousands of chickens from battery farms and rehomed them through her charity the British Hen Welfare Trust.
"It's huge thrill and surprise," she said of her New Year Honour.
Ms Howorth started collecting battery farm hens in 2003 and her charity now has 500 volunteers and will soon collect its 500,000th animal.
It sells about 50,000 birds a year to people who can show they will look after them well.
'Fabulous team'
"I started with an ad in the local paper, offering chickens that have 'never seen sunshine or tasted grass', said Ms Howorth.
"My phone never stopped. I was contacted by people from across the country."
Battery hens now get more space after new legislation in 2012 but they are still confined to cages in artificial light and will be slaughtered after about a year.
Ms Howorth said the rehomed chickens would live for seven or eight years.
"I would like to see all hens outside and free range," she said.
"But battery farmers are not bad people. I have always worked with the industry and it wouldn't have happened without their support.
"It is the most rewarding experience and I am so lucky to have a fabulous team here."