Elderly couple saved from flooded car in Sparkwell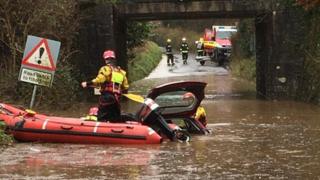 A delivery driver smashed the window of a car to save the lives of two elderly people trapped in rising floodwater.
Gary Brewer used a rock to break the glass and dragged the panicking couple from the car before water levels reached the roof in Sparkwell, Devon.
Police said the situation was only "minutes away from a tragedy".
Mr Brewer said the water had risen to within 6in (15cm) of the roof of the car when he freed the couple.
He said: "I rang 999 but they said it would be a while. I jumped into a field to get something to break the window.
"I got a rock and whacked the window about 15 times before it broke. I got the glass out and managed to pull her out, she was disabled and partially blind."
Mr Brewer said another man came to help during the rescue on Wednesday morning and they pulled the male driver out through the back of the car.
He described how the people in the car were panicking and shouting for help, freezing cold and shaking.
He said: "It was about 25 minutes after I called before the fire service arrived - they said had we not been there they'd have been dealing with fatalities.
"I don't see it as putting my life at risk, I was just trying to help them out... I presumed anyone would do it for anyone, wouldn't they?"
PC Steve Dykes from Devon and Cornwall Police said: "A few more minutes and we could have been looking at a tragedy."
A spokeswoman for Devon & Somerset Fire & Rescue Service said: "Due to the intensity of the weather today we have experienced the same treacherous driving conditions as the public.
"Naturally, we have to ensure that we arrive at an incident ready to help those in trouble as well as considering the safety of our crews when driving in such conditions. This meant we arrived as safely and as quickly as we could, within 22 minutes."
"We would like to take this opportunity to remind all members of the public not to enter floodwater in any circumstances," she added.
In a separate incident a mother and her young child became trapped in their car when a flash flood hit a rural road in Exton, Devon.
Firefighters rescued the pair from their car and they escaped without injury.
George Setter from Devon and Somerset Fire and Rescue Service, said the water was moving fast and there could have been "serious consequences".