Man needs 60 stitches in head after 'shocking' attack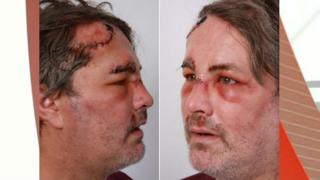 Police have released images of a 47-year-old man who needed 60 stitches after an attack described by detectives as shocking and unprovoked.
Neil Rogers was outside the Cider Press pub in Plymouth on 18 December when he was butted by an unknown man.
Police said the attack caused Mr Rogers to fall onto "a glass set of railings" which caused a facial injury and a severe wound to his forehead.
Officers have appealed for witnesses to contact them.
The attack took place between 21:45 and 22:00 GMT.
Det Con Christian Ferris, of Devon and Cornwall Police, said: "This is a shocking unprovoked attack in a busy area of Plymouth that has left Neil with horrific injuries, requiring two operations and now has 60 stitches in his head."