Twelve snakes found dumped outside Plymouth vets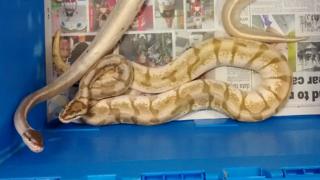 Twelve snakes are being cared for by an animal charity after they were found dumped outside a veterinary centre.
The RSPCA said the Royal Pythons were found in a cardboard box in Plymouth on 23 December.
Animal Collection Officer Peter Ferris said the reptiles were in poor health "due to them having being kept in poor living conditions".
He added: "It is so sad to see any pets dumped, but particularly exotic pets, which really need specialist care."
The snakes, which were all about 3ft 6in (1.1m) long and of different colours, were suffering respiratory problems, the charity said.
Mr Ferris said: "We would urge people who can't cope with their exotic pets to please contact the RSPCA or their local vets for help and support.
"To abandon an animal can compromise his or her welfare, especially for snakes, who cannot produce their own body heat."
Reptiles' complex needs must be met in captivity by law under the Animal Welfare Act, the charity said.