Pit bull terrier spared destruction order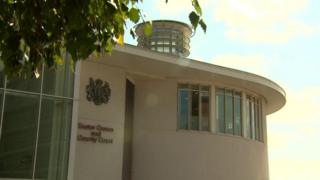 A pit bull terrier which was ordered to be destroyed has been saved after an animal behaviour specialist told a court she would adopt it.
The bitch, named Sky, was classified as a dangerous dog after incidents in August and November 2014.
Former owner Amanda Claxton, 53, from Barnstaple, won an appeal against the order made by magistrates despite admitting dog offences in March 2015.
The dog has been spared after further examinations revealed it was friendly.
Dog 'no risk'
Miss Claxton, of Charles Dart Street, admitted to magistrates Barnstaple allowing a fighting dog to be in a public place without a muzzle or lead, and being in charge of a dangerously out of control dog.
She was fined £100, given an eight-month conditional discharge, and magistrates ordered Sky must be destroyed.
However, Miss Claxton lodged an appeal to save the dog and Sky was later found to be a friendly dog who posed no inherent risk to the public, Exeter Crown Court heard.
The court was told Sky would be re-homed in early next year with Newton Abbot-based Ruth Owen, who runs Devon Dog Behaviour and advises other pet owners about training animals.
The case is due to return to North Devon Magistrates early next year to approve a change of keepership to Miss Owen. A judge at Exeter Crown Court will then lift the destruction order.