Exeter City Council confiscates 57 tents from homeless people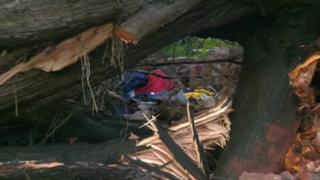 Nearly 60 tents have been confiscated from homeless people by a city council over the last 18 months, it has emerged.
Exeter City Council, which says it offers advice to homeless people on finding accommodation, said taking tents was a "last resort".
Tents were only removed from council-owned land after 24 hours' notice was given.
Homeless people are then given seven days to reclaim their equipment.
The council said it was moving people off its own land because they were not permitted to camp there.
In 2012 homeless Michelle Conroy was killed when a tree collapsed on her tent in Western Way.
A spokesman said: "If we find people camping on our land we will issue them with a notice asking them to move within 24 hours or we will take their tent equipment.
"We do give people seven days to reclaim their items before they are disposed of.
"We do try to engage with those found rough sleeping on council land and will, from time to time, allow them to stay if we understand it is a temporary situation and they are moving into accommodation like Gabriel House within a day or two."
The council is also considering a public space protection order (PSPO) which would widen its powers to remove "any unauthorised bedding, bivouac or encampment" from anywhere in the city centre.
An online petition against the PSPO has more than 8,000 signatures,
The petition says the PSPO will "increase (already high) levels of stigma surrounding Exeter's homeless population".
The council says the aim is to "ensure that bedding and associated articles aren't left in shop doorways or in other places where abandoned items could otherwise be considered fly-tipping, and to encourage engagement with outreach workers and help rough sleepers to access the support available".