Flip-flops given to 10,000 Torbay clubbers by street pastors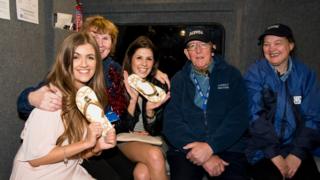 The 10,000th pair of flip-flops has been given out by a group of street pastors in Torbay in Devon.
A golden pair was given to Kate Walker at 1:15 GMT. She was wearing "very high heels and was rather uncomfortable", said co-ordinator Trevor Staveley.
The scheme started in 2008 and he said over the seven years demand had increased with the number of pastors.
The footwear is mostly given out to women who are struggling to walk home in high heels.
Mr Staveley said the team of 115 volunteers give the footwear out on Friday and Saturday nights in Brixham, Torquay and Paignton.
"Despite reaching the 10,000th pair, we're in it for the long haul and will continue giving them out," he said.