Lorry stuck under petrol station roof in Bideford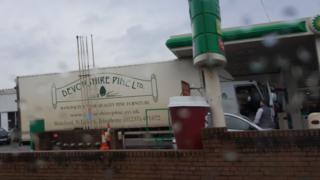 A lorry became stuck under a petrol station roof when the driver appeared to misjudge the dimensions of his vehicle.
The Devonshire Pine lorry became jammed under the parapet of the BP filling station in Bideford, Devon.
Taxi driver Rik Wall pulled over on Clovelly Road to take a picture of the stricken truck.
The lorry was removed on Monday and nobody was thought to have been injured.
Neither Devonshire Pine nor the petrol station wished to comment.