Arrest after man gets into train driver's cab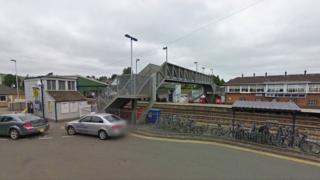 A man has been arrested after getting into the driver's cab of a train.
British Transport Police said they were called to Totnes station in Devon at 05:45 GMT after an incident on the London-Penzance overnight sleeper which caused delays of at least 40 minutes.
A 51-year-old from Canterbury was later arrested in Plymouth on suspicion of obstructing the railway, officers said.
The man's gaining entry to the cab was being investigated as a "trespass incident", Great Western Railway said.
'No threat evidence'
The man was also alleged to have climbed out of a train window and on to tracks near Totnes before reboarding the service, which carried on, police said.
Officers said the man got back on the train and staff kept him onboard until it arrived in Plymouth, where he was arrested.
More on this story and other news from Devon and Cornwall
Some services were delayed between Newton Abbot and Plymouth by up to 80 minutes as a result of the incident, Great Western Railway said.
British Transport Police said: "At this stage, there is no evidence to suggest any threats were made towards the driver or other passengers during the incident.
"We would like to stress that, at this time, this appears to be an isolated incident rather than part of any wider threat to the rail network."
Great Western Railway said: "British Transport Police acted quickly to defuse the situation, and there was no danger to passengers or the general public."