Lordship or ladyship title for sale in Woodbury Salterton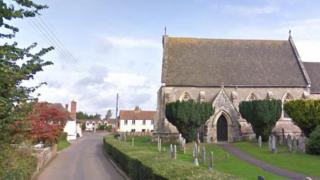 The Lordship or Ladyship of a West Country village is up for sale.
The Lordship of the Manor of Woodbury Salterton in Devon is on the market for a negotiable sum of £7,250, auctioneers said.
The buyer would be able to use the title Lord or Lady of the Manor on documents such as passports, chequebooks and credit cards.
It is associated with a wealth of history and allows membership of The Manorial Society of Great Britain.
The Lordship of Woodbury was a considerable manor at the time of Domesday Book (1086) when it belonged to the king, William the Conqueror.
Robert Smith, of Manorial Auctioneers Ltd, said it was expecting interest from a range of different people: "We do get zillionaires in China and Russia and America but also very ordinary people with disposable income," he said.
The last time it was sold was in 1997 for £14,250 to an US couple who owned Aladdin Hotel and Casino in Las Vegas, but nowadays people were prepared to pay only up to about £8,000 for the privilege, he said.
"The pricing is more in line with art and antiques markets than the property market. I think people don't have the dosh anymore".