Man stabbed while trying to catch robber in Plymouth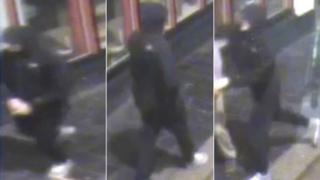 A man has been stabbed trying to catch a robber in Plymouth, police said.
A man who was believed to have taken two mobile phones "within a matter of minutes" in the Barbican area was confronted by members of the public just after midnight on Sunday.
A 25-year-old local man was in intensive care in hospital after being stabbed while trying to detain the suspected robber, Devon and Cornwall Police said.
CCTV has been released of the suspect.
The suspected robber was confronted at the junction of Looe Street and Vauxhall Street after the robberies in Notte Street and beside The Ship pub.