WW2 in Plymouth: Hundreds of hours of memories saved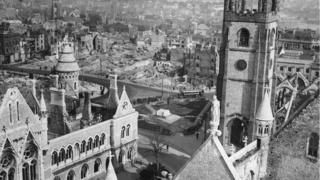 About 250 hours of audio memories from World War Two have been recorded and saved for future generations.
The recordings, which have also been transcribed by a team of volunteers, include those of 60 people who lived in Plymouth during the war.
Project organiser Simon Petherick described those had taken part as "extraordinary people" and their tales as "genuinely humbling".
The material has been archived at the Plymouth and West Devon Record Office.
Updates on this story and more from Devon and Cornwall
Mr Petherwick said: "I was walking down Plymouth's Royal Parade and it struck me it's about time we gather all the memories, and the rebuilding of the city after the war, before we lose all those memories for good."
Harold Perry, who was a school boy during the war, said when Winston Churchill came to Plymouth in 1941 he was "waving to everyone, with his cigar, boosting our morale".
"We were taking a battering in the early part of the war, but to see him, gave us a lift.
He said one of his earliest memories of the war was when 13 people were killed when a bomb was dropped on a fish and chip shop.
"I went on to the bomb site a day or two after and I came apart a body part and it upset me for years and years to come."
Elsie Hobbs, who was a schoolgirl during the war, said: "You'd go to school in the morning to find some of your friends were killed overnight.
"We lived with death in Plymouth and they used to print a list of the known dead on the library door.
She added: "Looking back on my life, I feel the war years were the happiest years, in a way, and I feel a privilege to lived through them."
The project received £57,000 from the Heritage Lottery Fund and volunteers were trained to conduct interviews by Plymouth University's History Department.