Tanis Bhandari death: Accused 'carried meat cleavers before'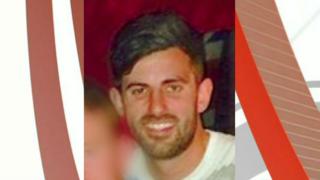 A jury has been shown CCTV footage of a man carrying two meat cleavers in a city centre two weeks before he was arrested for the murder of a builder.
Donald Pemberton, 21, denies murdering Tanis Bhandari, 27, near the Kings Arms pub in Tamerton Foliot near Plymouth in the early hours of New Year's Day.
The images of him relate to an offence of affray and possession of an offensive weapon in a public place for which he pleaded guilty last December.
Mr Pemberton said it was "one mistake".
Referring to the CCTV footage, which shows two groups of men confronting each other, Simon Laws QC, prosecuting, said: "A fortnight before the incident on the green you were seeking out confrontation".
Pemberton replied: "I don't think it's fair that everyone gets to see that video and gets to see me as that person. That's just one mistake. That's not me, not the genuine me. That's an hour of my life."
"You were acting in that way on 1 January" argued Mr Laws.
"No, I just asked for a fag" said Pemberton.
The trial continues at Plymouth Crown Court.