Tanis Bhandari death: Murder accused had axe 'as self defence'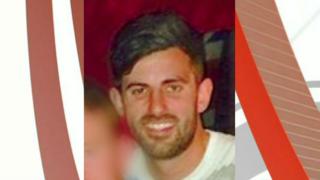 A man accused of murdering a 27-year-old builder on New Year's Day has told a court he was on his way to a fight and took an axe to protect himself.
Donald Pemberton, 21, denies murdering Tanis Bhandari, 27, in Tamerton Foliot, near Plymouth in Devon.
Mr Bhandari was stabbed twice in the attack, Plymouth Crown Court has heard.
Mr Pemberton said Ryan Williams, who admitted murder last week, went with him to meet a man that Mr Pemberton had been messaging on Facebook.
Giving evidence, Mr Pemberton denied having a knife but admitted carrying an axe when he walked through Tamerton Foliot with Williams in the early hours of New Years Day.
The jury heard that Williams and Mr Pemberton had taken the drug mephedrone, commonly known as bubble, that evening whilst at Mr Pemberton's brother's house in Tamerton Foliot.
Mr Pemberton said they were en route to Budshead Road when they encountered the group of friends who had just come out of the Kings Arms pub.
He claimed he had asked one of the men in the group for a cigarette and told the court that another man in the group came forward asking "What's he f***ing saying".
Mr Pemberton said moments later he was punched in the face.
During cross examination Simon Laws QC for the prosecution asked if Mr Pemberton was someone who likes weapons, "You like to hold them, to show off with them, to use them?".
Mr Pemberton replied: "I've never used them."
"What about the axe?" asked Mr Laws.
"I didn't think of it like that," responded Mr Pemberton
The case continues.