Whiteley Avenue street name signs in Totnes get three spellings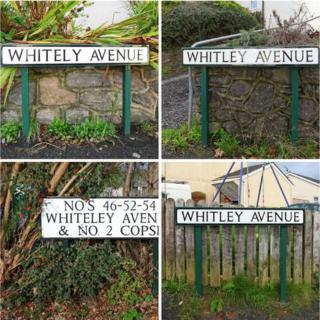 A council spelled a street name three different ways all in the space of a few yards.
Whiteley Avenue, the correct spelling, is also named Whitley and Whitely in Totnes, Devon.
Resident Brian Kelly said he had been trying to get South Hams District Council to correct the signs for the past nine months.
The authority has now apologised and said the incorrect signs are on a list for being replaced.
'It's bizarre'
The two signs at the entrance to the road rename the street Whitley Avenue, while another sign just five yards away has its own version of Whitely Avenue.
The only correct sign is another 30 yards up the road where the avenue is rightly named.
Mr Kelly said: "The old wooden signs rotted away and the council put up replacements about a year ago with the spelling mistakes.
"It's bizarre - you'd think the council would just be able to copy the old signs, but instead they came up with not one but two different spellings.
"They told me they will be correcting the mistake but have to wait to buy a batch of new signs because it's cheaper."
Councillor Hilary Bastone, who is "lead executive member for customer first", said: "We apologise to the residents of Whiteley Avenue for this error and we are ordering new signs to rectify this problem."
There were no immediate figures available for the cost of replacing the signs.