Tiverton Christmas lights: Giant pants light up town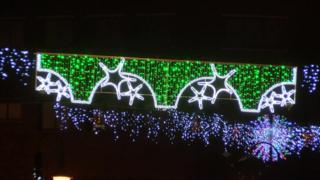 A town's festive lights have been likened to giant sparkly underpants.
The decorations, in Tiverton, Devon, were selected because the town's Christmas committee "liked the shapes".
But since the lights were switched on, people have remarked on their resemblance to festive undergarments on a washing line.
Committee chair Sue Griggs said: "They're Father Christmas's sparkly pants and they're great."
More on this story and other news from Devon and Cornwall
'Better than nothing'
Ms Griggs said: "We picked them because they're nice and festive, and we liked the shapes.
"Then people started saying that they resemble pants, which they do.
"They certainly look good and they are getting the attention they require, they look brilliant," said Ms Griggs, a former Tiverton mayor.
The town's lights, which cost £15,000, would remain part of Christmas displays for the next three years, she added.
They received a mixed reaction on social media, with Angela Fuery saying "they looked lovely", while local Sharon Fowkes dubbed them "better than nothing".
While Diane Surmon and Alicia Ann Fox both agreed they "definitely" looked like pants.