Anger over Bantham beach car park barriers plan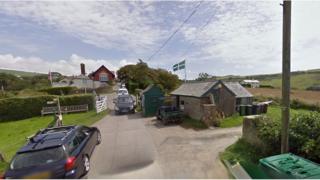 Plans to put car park pay barriers on one of Devon's most popular beaches have caused an outcry among locals.
The Bantham estate, bought by Nicholas Johnston last year for £11m, said the barriers are "essential" to ease traffic congestion.
One objector said barriers at the beauty spot were "more suited to an airport" and would deter surfers, windsurfers, kite surfers, dog walkers and others that use the beach.
Mr Johnston declined to comment.
More on this story and other news from Devon and Cornwall
The 750-acre (300-hectare) estate was bought by Mr Johnston after nearly 100 years of ownership by the Evans family.
Mr Johnston, who also owns the 4,000-acre (1,600-hectare) Great Tew Estate in Oxfordshire, plans to put in barriers for the car park and build an estate office nearby.
The application for the pay barriers says the number of visitors to Bantham is increasing every year.
"In peak times the congestion caused by the pinch point at the existing sentry box creates major difficulty for estate staff and inconvenience and delay for users," it says.
But some objectors fear the change spells the end of out-of-season free parking and will mean 24-hour charging.
They also say it will end the free use of a 100m (330ft)-long lane approaching the car park in the early mornings and evenings.
Nearly 80 objections to the proposals have been sent to South Hams District Council.
David Sibley of Kingsbridge wrote: "This change would leave people no option other than to park in the village.
"I fear this would cause issues for Bantham residents."
Charles Mitchelmore, vice chairman of Thurlestone Parish Council, told BBC News: "They want to put in something like an airport barrier, and it's just not appropriate in a place like Bantham."
Villager Peter Hurrell, 78, said: "Something has got to be done about the traffic that jams up Bantham, but I don't want to see big motorway-style things there.
"You could put them further down the lane so no-one could see them."
The application is being considered by the parish council on 7 December.
A proposed parking regime at another of Devon's surfing beaches has also met with opposition.
The car park operator at Saunton Sands wants to install number plate recognition cameras and locals are boycotting the beach in protest.
Saunton Beach Enterprises says it is responding to calls for an hourly rate system and the need to pay for the car park's running costs.