'Hundreds missing' linked to Glenbourne Unit in Plymouth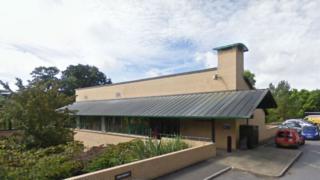 Hundreds of reports of missing people have been made in relation to a psychiatric unit, as a police federation claims services are becoming reliant on officers.
Police attended Glenbourne Unit in Plymouth more than 460 times in the past five years, including 200 times after being told a person was missing.
Plymouth Community Healthcare said there were "clear protocols in place".
But the police federation said callouts impacted on other services.
Allegation of rape
During the five-year period police said they were alerted to incidents involving the unit, which is an acute hospital for people suffering from mental health problems, more than 700 times.
Incidents included an allegation of rape, which is going through the judicial process, 13 incidents relating to sexual offences, 67 reports of violence and almost 270 missing person reports - the equivalent of more than one a week.
Nigel Rabbitts, from Devon and Cornwall Police Federation, said: "Glenbourne Unit is an excellent example of policing activity that is not necessarily recorded as a crime.
"This means that police resources are deployed to support another statutory agency which, due to resourcing issues and management policies, have become reliant on the police to assist in their function.
"It is recognised that these activities are about protecting individuals from harm but they are not recognised when setting central budgets."
He added the "failings of partner agencies should not mean" a reduction in resources for other police services.
A spokeswoman from Plymouth Community Healthcare said the welfare of people receiving treatment was its "primary concern" and said it worked "effectively" with the police when staff were concerned for a person's safety.
"There are clear protocols in place for when we have concerns about the welfare and whereabouts of a patient," she said.
She said the unit's latest Care Quality Commission report in 2013 showed it was performing well.
Devon and Cornwall Police, which provided the figures through a freedom of information request, has declined to comment.