Alderney may get first accredited bird observatory in Islands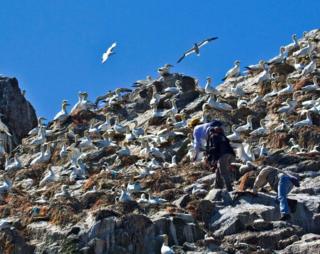 The first nationally accredited bird observatory in the Channel Islands will be located in Alderney, if a pilot scheme is successful.
The Alderney Wildlife Trust, with the help of the British Trust for Ornithology, will launch the pilot observatory next year.
The Wildlife Trust hopes to meet the required level of excellence for accreditation by 2018.
Manager Roland Gauvain said: "It is an exciting project."
There are already 19 observatories in the UK and Ireland, which enable researchers to monitor bird populations and migration patterns.
However, Mr Gauvain said that there was a "relatively small" number of observatories on islands, which includes the islands of Farne and the Calf of Man.
He said Alderney was in the unusual location of being close to the French continent where it could see a large number of birds in a small area.
The British Observatory Committee, which sets the criteria for accreditation, requires sites to carry out bird ringing at the observatories, and to submit data to national bodies such as the British Trust for Ornithology.
The pilot scheme will partly test whether Alderney has the necessary resources to provide this information, such as adequate funding and numbers of volunteers.
Mr Gauvin said that the accreditation would attract more people to the island, and that it had the potential "for showcasing Alderney, and also the Islands, nationally".
Alderney has over 270 species of resident and migrant birds.