South West Water auctions 'novelty' disused sites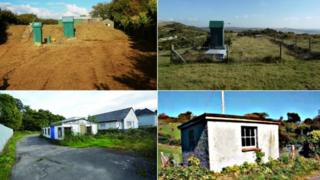 A sewage pumping station and an ex-treatment works are among 30 sites being auctioned by South West Water.
Seven underground water storage tanks and moorland plots are also on the list of properties no longer needed.
The company said half the proceeds will be returned to customers through lower bills, with £5m already returned from previous auctions.
A number of its sites, including pumping stations, have been converted into "unusual homes" the firm said.
Some of the areas of land up for sale include plots at Drift Reservoir, near Penzance, and at Marypole Head water storage tank in Exeter.
Guy Busby, head of property and support services, said: "Novelty sites with small areas of surplus land always attract strong interest as people are able to invest relatively modest sums for their 'little piece of England'."