NASUWT teaching union boss denies ignoring complaints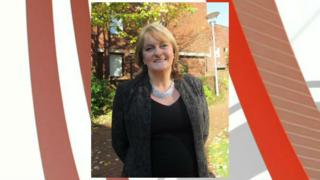 The general secretary of the UK's biggest teachers' union has denied not taking action after complaints were made against a senior union official.
Chris Keates was giving evidence in a tribunal brought by professional assistant Charlotte Revely against the National Association of Schoolmasters and Union of Women Teachers (NASUWT).
Ms Revely, 51, a former union employee, is making a whistleblower and sexual discrimination claim.
The union rejects her allegations.
Ms Revely, of Dinnington, Somerset, has accused the assistant general secretary of the union Jim Quigley of fostering a "hostile, sexist and discriminatory environment" and has alleged the union "turns a blind eye to discrimination".
'Courting press and media'
Giving evidence to tribunal in Exeter, Mr Quigley denied there was "a lads' culture, a beer culture and pub culture" at the union and rejected claims women workers were excluded by some male colleagues.
The tribunal heard that between 2006 and 2014 nine people raised complaints against Mr Quigley personally - and eight of those were women.
But Ms Keates - whose union has over 300,000 members - hit back in her statement saying: "Ms Revely alleges that I have been aware of a significant number of complaints against Jim Quigley over the last decade and chosen not to take action against any of them. This is wrong.
"When issues have been brought to my attention I have not hesitated to deal with them."
She also stated: "I would like to say Ms Revely has constantly attempted to put pressure on the NASUWT by writing to elected national executive members, courting press and media and publicising communications from our solicitors, clearly with a view to seeking to damage the NASUWT.
"The NASUWT has consistently sought to act professionally," she said.
The tribunal panel is expected to make its decision on Wednesday.