Devon lollipop crossings 'under threat'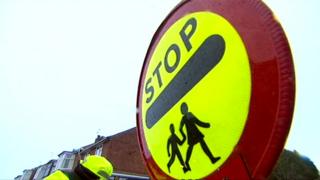 School crossing patrols in Devon are said to be "under threat" as the council looks to save £250,000.
The county council wants to review the service as it has to deal with a predicted £9m overspend.
The Conservative-run authority has said it wants to consult with schools about its plans to "review" the service.
Opposition Lib Dems accused the ruling party of "stealth cuts". Earlier, the council had backed down on plans to save money over lollipop patrols.
Read more on this story as it develops throughout the day on our Local Live pages.
Alan Connett, leader of the opposition Liberal Democrat group said: "They have announced massive overspending on social services and they are trying to claw their way back with cuts.
"It is another stealth cut by the council. They got hammered earlier in the year and they are back at it again. It is because they won't address the real issue of keeping on top of spending."
Stuart Hughes, the council's Conservative Cabinet member for highway management, said: "I was formally asked if further consultation can be carried out as part of the review of the school crossing patrol service, but have not made a decision.
"Consultation would be required to help the county council make an informed decision at a later date, and it is likely this issue will be raised at Cabinet this week."