Devon brothers in plea over refugee father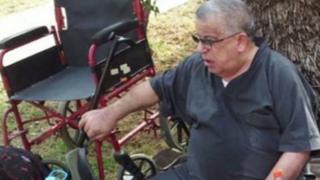 Two brothers have asked the Queen and prime minister to be allowed to bring their elderly refugee father to safety.
Abdulkarim Damous, 75, is disabled, partially sighted and living in a park in Turkey after fleeing the civil war in Syria in April.
His sons, Muayad and Ahmed Damous, who run a garage in Exeter, Devon, were originally from Syria but have been British citizens for 10 years.
They have been refused a visa for their father three times.
The Damous brothers have now written to Buckingham Palace and Downing Street asking for the UK to act.
Ahmed said: "I can't sleep and can't rest for worrying about him. I feel guilty to live here in relative luxury when our dad is suffering. We are desperate for someone to help us."
Muayad added: "We fear he may not last much longer with winter coming on and miss him dreadfully. We just want to help him."
The other members of the Damous family fled from the city of Idlib after it was taken over by the so-called Islamic State (IS).
The brothers say they have spent £50,000 trying to bring their father to Devon, and they do not even need him to settle in the county permanently, just to be safe for the winter.
"We have our own homes, and enough money to support him", Ahmed said. "We won't be a burden on anyone."
A Home Office spokesman said: "All visa applications are considered on their individual merits, including any compelling and compassionate circumstances, and in line with the immigration rules."