Exeter Pound: City launches its own currency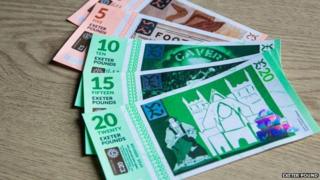 A local currency for the Devon city of Exeter has been launched in a bid to boost local trade.
The Exeter Pound is only accepted by a number of local shops and is designed to work alongside, not replace, sterling.
The first note was spent by Exeter's lord mayor outside the city's cathedral at 11:00 BST.
Ninety traders and charities have signed up to accept the new paper currency.
Deals offered
Those behind the project say it is like a voucher that can only be spent in local independent businesses, and is equal in value to sterling.
Pounds can be exchanged for the Exeter currency a number of places in the city.
The notes, which are designed to make sure money spent in Exeter stays in the city, are serial numbered, printed on watermarked paper and have holograms to prevent forgery.
Daniel Hillier, who is one of the directors, said: "Shoppers tend to go to big name brands and we want to try to educate them to shop at the small, independent businesses.
"Certain businesses will be offering deals, like 5% or 10% off if you use the currency."
Mr Hillier said the shoppers would see the currency as "a fun and interesting day out", while also doing their bit to support independent businesses.
Organisers plan to launch an Exeter Pound digital scheme in 2016, which will allow people to transfer the money online.
Local currencies are already being used in Brixton, Totnes, and Bristol.