'Impounded' aircraft allowed to leave Plymouth airport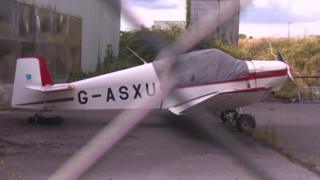 A vintage aircraft that was "impounded" after making an emergency landing at a former airport in bad weather has been given permission to leave, the Light Aircraft Association said.
Sutton Harbour Holdings, the site leaseholder, said "a resolution of this matter was imminent".
It had said the pilot trespassed when he landed his Jodel G-AXSU en route from Cornwall to Kent on 9 August.
It had insisted the aircraft could only be removed by road, because of safety.
A spokesperson for the association said: "Once it became clear that there was an impasse between the pilot and the owners of the site, many fellow pilots began a high-profile campaign to publicise the issue."
It said assurance had to be given regarding the airworthiness of the aircraft and sufficient liability insurance.
A spokesman for Sutton Harbour Holdings said: "We are pleased at the progress made today towards an agreed solution which should hopefully allow the aircraft to safely leave as soon as possible."