Plymouth slavery trial halted 'for legal reasons'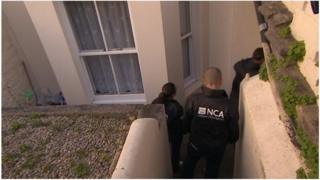 The trial of five people accused of human trafficking offences has been halted.
Two men and three women are charged with conspiracy to traffic for the purpose of exploitation - which they all deny.
The judge at Plymouth Crown Court discharged the jury "for legal reasons".
The court previously heard the victims were brought to Plymouth from the Czech Republic.
The defendants are:
Ruzena Tancosova, 34, of Union Street - charged with conspiracy to traffic for the purpose of exploitation, requiring a person to perform forced or compulsory labour and acting as a gangmaster
Petr Tancos, 35, of Ford Park Road - charged with conspiracy to traffic for the purpose of exploitation, requiring a person to perform forced or compulsory labour
Nela Dzurkova, 26, of Ford Park Road - charged with conspiracy to traffic for the purpose of exploitation
Martin Tancos, 35, of Saltash Road - charged with conspiracy to traffic for the purpose of exploitation and acting as a gangmaster
Katerina Kurejova, 35, of Saltash Road - charged with conspiracy to traffic for the purpose of exploitation