Ellerman portrait found in Cornwall garage sells for £27k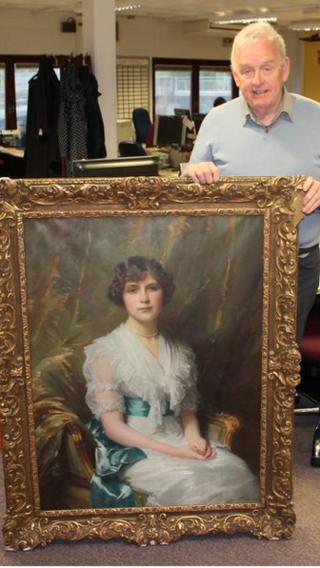 A portrait of a shipping heiress which was found in a Cornwall garage has sold at auction for £27,000 - more than double what was expected.
The painting of Winifred Ellerman, by Sir Samuel Luke Fildes, turned up at a home in Newlyn last month.
Auctioneers in Penzance had expected it to reach between £8,000-£12,000.
Ellerman is famed for saving more than 100 Jewish people from Nazi Germany by paying for their fare to America.
'Very glamorous'
She was the daughter of shipping magnate John Ellerman, who left more than £36m - equal to about £10bn today - in his will when he died in 1933.
Ellerman travelled widely throughout Europe as a child and visited Bryher in the Isles of Scilly, later adopting the name Bryher as her pseudonym when she became a feminist writer.
Graham Bazley from WH Lane Auctioneers said: "It was obviously a 'coming of age' picture, probably commissioned by her father from what was one of the most important portrait painters of the day, he was the man who painted all the Royal Family, the coronation portraits of 1902 and so on.
"It's a very glamorous painting, but the mystery is how it ended up in someone's garage in Cornwall.
"I don't think we have solved that, but her mother lived in Cornwall and died here in 1939, so it probably became part of a house clearance when a portrait of someone would not have been particularly sought after."
He declined to reveal who the buyer was, but said there had been "ferocious" bidding for the painting, including offers from America.