Paignton Zoo puts down giraffe calf and tiger on same day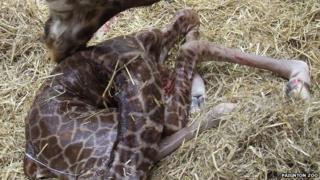 A giraffe and a tiger have been put down at a zoo on the same day as a result of illness, staff say.
The Rothschild's giraffe calf, born last month at Paignton Zoo in Devon, had to be destroyed on Tuesday after it was found collapsed in its stall.
Fourteen-year-old male Sumatran Tenang was also destroyed after tests showed he "most likely had kidney problems".
The zoo's owner said it was "unfortunate" the deaths "occurred so close together".
'Zoo daily life'
The giraffe, born in front of visitors, had fed normally from his mother for 12 days before keepers were forced to step in and help out.
The "difficult decision" to put him down was taken after he was found collapsed "despite the efforts of keepers and the zoo's in-house vet team", the zoo said.
A post-mortem examination would be carried out, it added.
Rothschild's giraffes are one of the most endangered subspecies, with only a few hundred left in the wild. The zoo has previously experienced the deaths of Rothschild's born there.
The zoo said tiger Tenang was put down after tests by vets.
It said: "This [kidney problems] is very common in cats of all sizes, from domestic pets to wild tigers. In addition, at 14, Tenang was an older animal."
Sumatran tigers are classed by conservationists as critically endangered.
Stewart Muir, of the Whitley Wildlife Conservation Trust, which owns the zoo, said: "Births, deaths and marriages are part of daily life in any zoo.
"It's unfortunate that these two sad events occurred so close together, both for the staff who care for the animals and for our visitors."