London gang jailed for Exeter heroin and cocaine supply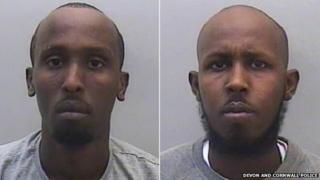 Members of a drugs gang that ran heroin and cocaine from London to Exeter have been jailed for between two and eight years each.
All 14 defendants pleaded guilty at Exeter Crown Court, to charges of conspiracy to supply class A controlled drugs or the concern in the supply of class A drugs.
The prosecution was the result of a 16-month police operation.
Gang members travelled from London to Devon up to five times a week.
It is understood they stayed at a number of addresses in the city by intimidating vulnerable adults or drug users.
On 19 May 2014, warrants were executed at 10 addresses in Exeter and 10 properties in south west London.
Det Insp Mark Waldron said: "This group has been responsible for a large proportion of class A drug supply in Exeter and further afield for some time."
Defendants sentenced:
Yahya Hashi, 25, of Spicer Road, London, was sentenced to eight years after being found guilty of conspiracy to supply cocaine and heroin
Fathi Ahmed, 29, of Pilgrim Hill, London, was sentenced to eight years after being found guilty of conspiracy to supply cocaine and heroin
Fahad Hassan, 23, of Undine Street, London, was sentenced to seven years and six months after being found guilty of conspiracy to supply cocaine and heroin
Said Mohamud, 28, of Bromar Road, London, was sentenced to six years after being found guilty of conspiracy to supply cocaine and heroin
Shafie Afrah, 28, of Kings Road, London, was sentenced to six years after being found guilty of conspiracy to supply cocaine and heroin
Sakariye Yasin, 25, of New Park Road, London, was sentenced to six years after being found guilty of conspiracy to supply cocaine and heroin
Lee Haine, 26, of Birchy Barton Hill, Exeter, was convicted of being concerned in the supply of cocaine and heroin and sentenced to two years and eight months
Robert Doyle, 34, of College Road, Exeter, was convicted of being concerned in the supply of cocaine and heroin and sentenced to two years and eight months
Nicola Martin, 33, of St Davids Hill, Exeter, was convicted of being concerned in the supply of heroin and sentenced to two years and eight months
Christopher Edworthy, 39, of Heavitree Road, Exeter, was convicted of being concerned in the supply of heroin and sentenced to two years
John Acres, 44, of Exe Street, Exeter, was convicted of being concerned in the supply of heroin and sentenced to two years
John Gill, 40, of Howarth Close, Sidmouth, was convicted of being concerned in the supply of heroin and sentenced to five years and seven months
Richard Lewis, 52, of Slade Close, Plymouth, was convicted of being concerned in the supply of heroin and sentenced to two years
Philip Warton, 35, of Park Street, Crediton, was convicted of being concerned in the supply of heroin and sentenced to three years