Man jailed for stabbing ex-girlfriend after babysitting request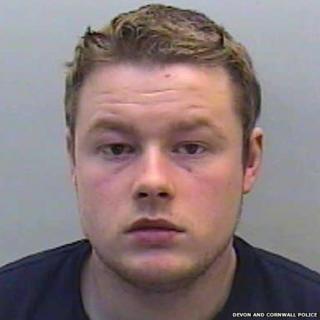 A man has been jailed for stabbing his ex-girlfriend seven times in the chest and back after being asked to babysit.
Gareth Meek, 23, was sentenced to nine years in prison at Exeter Crown Court for almost killing Talia North, 21.
Meek, of Pathfields in Uffculme, Devon, admitted causing grievous bodily harm with intent with a kitchen knife.
He admitting being angry about being asked to babysit three days after splitting up and stabbed her in front of her brother and his own mother.
The court heard Meek became agitated because Ms North asked him to look after their two children after they had postponed their planned marriage.
Permanent injuries
He had taken amphetamines while visiting friends in Tiverton the previous day and had not slept for almost 48 hours.
He stabbed Ms North so quickly and violently that witnesses did not realise what he had done until she collapsed on the floor.
Ms North needed two blood transfusions of seven pints to save her life and has suffered permanent physical and psychological injuries.
Judge Francis Gilbert QC told Meek his former partner "suffered significant damage to her lung and diaphragm".
"Her condition was life threatening and her blood loss meant she needed resuscitation and almost died at hospital in Exeter and again while en route to Derriford [hospital]," the judge said.
"The aggravating features of this case are the number of wounds and the very serious consequences to the victim."
'She pleaded'
Mr Adrian Chaplin, prosecuting, said: "He picked up a knife from the kitchen and suddenly, with speed and ferocity, he attacked as she pleaded with him not to do it.
"He stabbed her seven times and as she lay on the floor he was heard to ask his own mother if she wanted some too."
Meek said he was suffering mood swings but had no plan to kill his ex and the attack "just happened".
On arrest he told police officers: "I feel sick and wish I was dead."