East Devon District Council to move after seven-year debate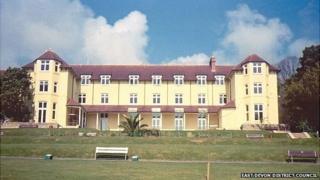 A council in Devon which spent seven years debating whether to move its headquarters to cut costs has finally agreed to the switch.
East Devon District Council said its base in an "old converted hotel" in Sidmouth was not fit for purpose.
But campaigners claim the move will result in "huge loans" being taken out and hundreds of jobs being relocated.
The Conservative-led authority is expected to move to Honiton and Exmouth in 2017.
The move was first suggested in 2008 but, because every part "has been scrutinised", the authority said it "had to be undertaken with complete transparency and could not have been short-circuited" - resulting in the lengthy process.
Richard Thurlow, from Save Our Sidmouth, said: "Obviously we're disappointed but it's not unexpected."
"They're taking out huge loans of over £9.5m in the short-term and £2.1m over 20 years, and who can say what will happen in 20 years?"
He added the move - which is expected to result in the Sidmouth site being sold to a retirement developer for about £8m - will result in a loss of 300 jobs in the town.
'Past sell-by-date'
Conservative councillor Andrew Moulding said the authority was "running offices in an old converted hotel".
"There will be a short-term loan and then a loan of about £2m over a 20-year period. The problem is, if we stayed where we are we'd have to spend more money refurbishing it so it was fit for purpose.
"It really is past it's sell-by date, people are running their offices from converted bedrooms, bathrooms and even toilets."