Devon and Cornwall Police attends 15 mental health calls a day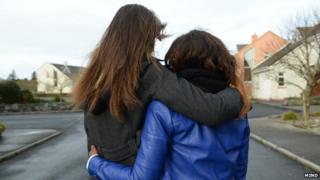 A police force attended almost 15 mental health incidents a day last year, figures obtained by the BBC show.
Devon and Cornwall Police has seen a 10% rise in mental health callouts from 4,891 in 2010 to 5,364 in 2014.
The force's police federation said officers were "frustrated that the NHS does not have the capacity to deal" with people with mental health issues.
The NHS said demand for services had risen, creating "pressure". The force refused to comment.
In November, a teenage girl with mental health problems was kept in police cells in Devon for two days because of a lack of care beds.
NHS England has since apologised and described her care as "unacceptable".
Attempted suicide
One mother, who wants to remain anonymous, said the police had been called a "handful of times" when her daughter, who has complex mental health issues, had tried to kill herself.
She said officers were "fantastic within their remit" and had dealt with her "very well", but she questioned whether they were equipped to deal with such cases.
"I really don't feel they are the entity to call for mental health issues; you need mental health-trained professionals," she said.
"They could be dealing with an assault or a road traffic accident instead. Sometimes they can be quite abrupt.
"It's just the wrong choice; police should not be dealing with mental health."
Tom Pollard from mental health charity Mind said the rise in police callouts was "concerning" and that mental health services in the NHS were "stretched".
"These calls have been recognised as mental health, so perhaps police are getting better at understanding it and directing people to the right support," he said.
The figures, obtained by the BBC under the Freedom of Information Act, were based on the emergencies being flagged as mental health incidents.
Nigel Rabbitts, from Devon and Cornwall Police Federation, which represents rank and file officers, said: "Only about 30% of officers' time is taken up by detecting and investigating crime.
He said officers were "frustrated that the NHS does not have the capacity to deal" with those who have mental health issues.
"At the end of the day we use police resources to mind those while we wait for the practitioners to turn up. That has to change," he said.
Since 2011, officer numbers in the force have fallen by about 400.
Mr Rabbitts added the government had to invest to deal with the problem.
A Department of Health spokesperson said: "Police, mental health services, social workers and ambulance staff are working together to better support people experiencing a mental health crisis.
"In Devon and Cornwall, this has already resulted in a 15% reduction of people in mental health crisis going to police cells over the last year. We anticipate more improvements will happen over the next 12 months."
Number of mental health incidents attended
2010 - 4,891
2011 - 4,217
2012 - 4,977
2013 - 5,403
2014 - 5,364
Source: Devon and Cornwall Police Freedom of Information response
Mental health trusts in England have seen their budgets fall by more than 8% - almost £600m - in real terms over the course of the previous parliament, figures obtained by BBC News revealed.
However, Plymouth Community Healthcare said the number of mental health professionals employed had remained stable and the Devon Partnership NHS Trust said there had not been a reduction in staff or funding for mental health services.
Cornwall Partnership NHS Foundation Trust said there had been a small reduction in professionals working with mental health patients.
A spokesman for Northern, Eastern and Western Devon Clinical Commissioning Group (CCG) said: "We have seen an increase in demand on mental health services across Devon and Cornwall since 2010, and this has created pressure in the system, especially on police officers, accident and emergency, ambulance services and mental health crisis services."
He said the CCG had been working closely with partners as part of a national agreement between services and agencies involved in the care and support of people in crisis.
The local programme included a regular shared forum and investment in street triage provided from police control rooms in Exeter and Plymouth, he said.
Other initiatives included investment in 24-hour psychiatric liaison teams in hospital accident and emergency departments, and in 24-hour "places of safety".
NHS Kernow said: "Across Cornwall and Devon, the NHS has been working closely with the police and magistrates' courts to support vulnerable people.
"Specialist mental health staff provide expert advice to officers and care to those in the justice system to ensure vulnerable people receive appropriate support, enabling the police and courts to execute their duties."