Paignton school pupils banned from watching eclipse outside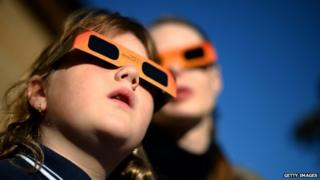 School children have been banned from watching Friday's solar eclipse outside over fears they may stare at the sun.
Pupils at Oldway Primary School in Paignton, Devon, will watch inside on televisions or the internet instead.
Head teacher Jane Smythe said she had 700 children to look after and she "could not guarantee that they would not look at the sun".
Some parents said it was "bizarre", "a shame" and a "missed opportunity" for the pupils.
On Friday, the UK will experience a partial solar eclipse - the moon will pass in front of the sun, blotting out up to 98% of its disc and putting much of the UK into a morning twilight.
'Potentially blinded'
Ms Smythe said: "If parents want to keep their children home to watch the eclipse and then bring them in afterwards that is fine."
Parent Sophie Bertorelli said: "It's a bit of a shame having to watch it on a computer. I would have thought they would have maybe supplied some protective glasses."
But another parent, Fiona Bullman, said: "It's too much of a risk. You can't risk 700 children potentially being blinded. Unless there's one adult to one child, you can't [risk it]."
A spokesman from Devon County Council said: "Obviously the eclipse is timed to start when many children are still on their way to school so we'll be advising head teachers to tell them not to look at the sun without sufficient protection."
Torbay Council said it had not sent out any guidance to schools.
The Department for Education said it was a matter for individual schools.
An extraordinary sight
The UK won't see a solar eclipse on this scale until 2026.
How to watch the eclipse safely