Totnes protesters win traffic system battle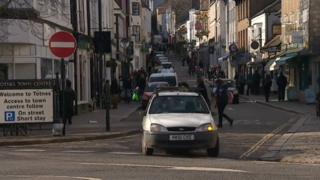 A controversial decision to reverse traffic flow through Totnes town centre has been quashed in the High Court.
Devon County Council made the change in 2013 to make the area safer.
But some traders began legal action claiming their businesses had suffered because the main entrance to the town centre was made no-entry to traffic.
The council said it was "disappointed" by the High Court decision and was considering whether to appeal.
BBC presenter Jonathan Dimbleby was among campaigners who marched with protesters against the traffic changes which meant vehicles could no longer be driven up the High Street from the bottom of the town.
The changes reversed the previous system ,in which traffic was allowed up the High Street, and brought in alternative routes.
Campaigner Peter Richardson said: "The people of Totnes fought very hard to get this result and it's a shame Devon County Council tried to quash the will of the people instead of trying to solve the problem of traffic on the roads."
Shopkeeper Liz Lawson said: "We had a big loss in sales as a result of the changes. It's been quite devastating."
Others in the town said that the changes meant traffic noise and pollution had been reduced and walking in the town was more pleasant.
The judgement will not be put into effect until the council decides whether it will appeal.
A council spokesman said: "Motorists must continue to abide by the restrictions as the order remains in place until there has been a further hearing, which is expected imminently."