Plymouth Albion: Troubled club avoids administration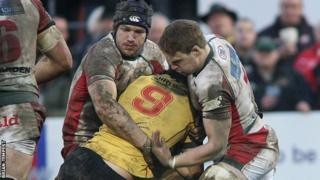 Plymouth Albion Rugby Club have avoided going into administration after a deal with local businesses.
The struggling Championship club now have a cash injection of £250,000 which they need to see them through to June.
The club faced a deadline of midnight to strike a deal or go into administration.
Albion, currently bottom of the Championship, have secured their short-term future and will now try to stave off relegation to National League One.
Should they go into administration they will be docked 20 points, effectively relegating them from the Championship whatever their results.
The club currently receives £380,000 per year in central funding from the Rugby Football Union, a sum which Albion have said is not enough.
The club said on its website: "Further funds are still needed and are being sought but this is a major step forward as we continue to build a resource for next season."
There will be a meeting for shareholders on 5 February when long-term plans for the club's future will be presented.