Children's services in Plymouth 'require improvement'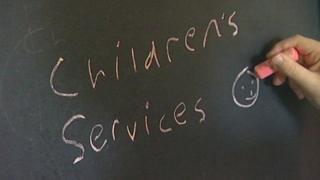 Children's services in Plymouth "require improvement" across the board, according to the latest Ofsted report.
The report examined Plymouth City Council services for children "in need of help and protection".
Ofsted criticised interviews carried out when "missing" children returned and said police attendance at child protection conferences was "poor".
Plymouth City Council said the report acknowledged the pressure on the service because of increased demand.
The report said high caseloads for social workers affected the "ability to fully assess children's needs and to plan help effectively".
It said: "Frequent changes in social worker inhibit the building of effective relationships with children, young people and parents."
'Information not shared'
Ofsted said plans for young people leaving care were "poor" and said too many of them - 47% - were not in education, employment or training.
The report said there had been "a decline" in the take-up of dental provision and more than a third of children being dealt with did not receive "timely" initial health assessments.
Ofsted said there were signs of the effectiveness of different agencies working together to protect children from sexual exploitation.
Some key factors noted in report:
Services for young people and children in Plymouth require improvement to be good
Social workers have too much to do, which means they do not spend enough time with children and young people
Some children have too many changes of social workers. This makes it hard for children to get to know and trust them
Improvements need to be made so that children can contact their social worker when they need to speak to them
Lack of foster carers in or near Plymouth
Source: Ofsted
But the report said "poor" attendance by police and doctors at child protection meetings meant "important information about children's lives is not always shared".
It also stated health commissioners needed to be challenged as "children who require child protection medical examinations wait too long for them".
Responding to the report, Plymouth City Council pointed to the change in the Ofsted inspection regime in November 2013, which meant the previous rating of "satisfactory" was replaced with "requires improvement".
The council said 409 children were subject to child protection plans at the time of the inspection from 22 October to 12 November 2014.
Sue McDonald, the council's cabinet member for children, young people and public health, said: "We know we need to accelerate the pace of improvement in tackling some key issues."