Abandoned horses: Charity opens new farm as calls rise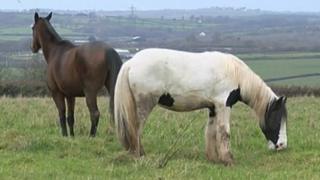 A horse charity has opened a new farm in Devon to deal with the rising numbers of abandoned animals.
The Mare and Foal Sanctuary says it is taking calls for help every day, up from three a week two years ago.
It blames the economic downturn, a drop in value of ponies for meat and breeders abandoning animals.
The charity, which cares for about 300 horses, aims to take in an additional 60 animals at a new 135-acre site at Upcott Park near Holsworthy.
Executive Director Simon Avery said in some cases up to 50 horses at a time are being left on moorland and on playing fields.
Mr Avery said there has been "an increase in large-scale abandonment" partly attributable to ruthless breeding practices.
He said: "Some breeders - and there are very few of them but they have a large impact - breed a lot of horses and will keep one or two of the best ones and abandon the rest."
Mr Avery said the issue of abandonment caused problems for the people who discovered the animals on public land.
"Someone will just turn up in the middle of the night, throw a lot of horses out, shut the gate and walk away and leave the problem for someone else to deal with," he said.
Mr Avery said every horse rescue charity he knew of in the UK was currently full.