Neighbourhood Health Watch launched in Ilfracombe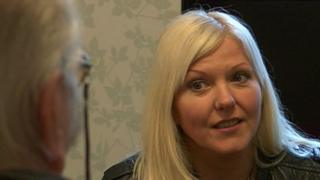 A new scheme to encourage residents to help improve their neighbours' health has been launched in a Devon town.
The Neighbourhood Health Watch was inspired by the success in tackling crime of Neighbourhood Watch schemes.
Organisers said the project would reduce isolation and improve health and wellbeing.
The scheme has previously run in villages but Ilfracombe is thought to be the first town in the UK to operate a Neighbourhood Health Watch.
Project worker Jayne Clarke said volunteers could help with practical measures such as "picking up a pint of milk, picking up a prescription".
She said: "It's those tiny little interventions that we take for granted that mean the most to people that are on their own and the most vulnerable."
'Getting connected'
Mrs Clarke said she believed the Neighbourhood Health Watch in Ilfracombe was the first scheme of its kind in the UK.
"We've been running pilot schemes in Devon in rural locations where you already have good community support," she said.
Miriam Turner, from Ilfracombe, is a volunteer with the scheme.
She said: "I have a number of elderly neighbours and I think it's really important to just check up and keep in contact with them."
Devon County Council has allocated £40,000 of funding for the project.
Andrea Davis, cabinet member for improving health and wellbeing, said: "It's about getting people more connected in Devon and letting us go and do something for our friends and neighbours."