Pedigree sheep ears bitten off in Avonwick dog attack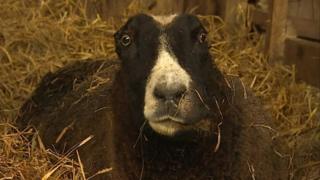 A number of pedigree sheep have had their ears chewed off and their faces bitten in a dog attack.
The rare breed of ewes were attacked in Avonwick in Devon and are now having to be bottle fed as they cannot eat or drink.
The sheep are due to give birth at the end of the month and the farmer fears they may now lose their lambs.
Officers from Devon and Cornwall Police are investigating the attack which took place on Wednesday.
The sheep famer, Martin Pearse, said his flock usually stayed in one field but when the dog attacked they were grazing in another.
Mr Pearse said: "It brings me to tears every time I think about it.
"I hope someone out there saw something or the person [who owns] that dog who went home covered in blood and covered [in] mud would come forward and own up to the fact.
"The thing is when dogs get a liking for this sort of thing they will do it again."
Christopher Jones, the vet caring for three of the most seriously injured sheep, said he was "quite shocked" by the attack.
"I thought the ears might be bitten but not missing. I feel sorry for them and whether they will overcome the injuries.
"From the stress of the whole thing they could lose the lambs."