Hospiscare given £3.5K found on street by its Exeter shop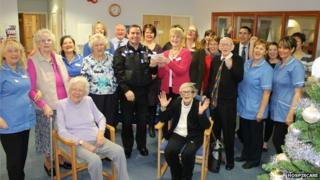 More than £3,500 in used £20 notes left on a street in Exeter has been handed over to a charity.
Staff at the Hospiscare shop in Exeter reported finding the cash to police who are now satisfied it was a genuine donation.
The charity said it was "overwhelmed" by the "generosity and kindness" of the donor, whose identity is unknown.
Hospiscare, based in Exeter, provides care and support for terminally ill people in Devon.
'Anonymous'
Glynis Atherton, Hospiscare chief executive, said: "I would like to say a huge thank you to our mystery donor. We are overwhelmed by your generosity and kindness.
"We respect your wish to remain anonymous but want you to know that your gift will help us to provide much needed special care to local people and their families."
The charity said the cash would pay for someone to stay at the hospice for six days or for day therapy for 24 people.
Staff found £3,540 outside the Hospiscare shop on Cowick Street on the morning of November 10.
Devon and Cornwall Police held the money for six weeks as it was left in a public place but nobody came forward to claim it.