Racist crimes among Devon and Cornwall youths plummet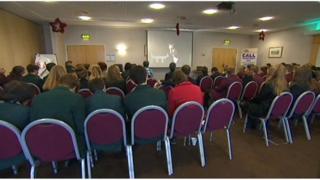 Racist crimes committed by young people in Devon and Cornwall have fallen sharply since 2009 according to police.
There were 37 racist crimes by people aged 17 and under from November 2013 to last October compared with 84 in the same period between 2008 and 2009.
The number of racist crimes at schools was 10 in the year to October.
The overall number of racist crimes has remained steady since 2009 at just below 900 a year said the Devon and Cornwall force.
The number of people from ethnic minority backgrounds is increasing, but the figures in the South West remain relatively small.
The most recent census in 2011 shows:
About 5% of people in the South West are from ethnic groups other than white, compared with about 14% in England and Wales
The largest numbers of people in ethnic groups other than white are in Exeter, where the figure is almost 12%
In Plymouth it is about 7% and in Cornwall the figure is about 4%
Charity Local Heroes has been touring schools in the region to raise awareness of hate crime, including racism.
Police said the workshops may have helped reduce the number of racist crimes but warned their figures were likely to be the tip of the iceberg and urged more people to report racism.
Local Heroes' patrons include black American footballer Elliot Hoyte, 21, who grew up in Tavistock, Devon and now plays college football for Boise State University.
He said: "When I was in primary school I was often made fun of by kids who didn't know me very well, sometimes they wouldn't want to play with me because I was a different colour and they thought something was wrong with me.
"I noticed as I got older it was a lot more subtle, being much bigger than average person I can be intimidating enough already.
"As I have got older I have learned to turn a blind eye to it, and I actually use discrimination as motivation to better myself. I learned that it's OK to be different."