Clown hunted over toilet attacks in Plymouth nightclub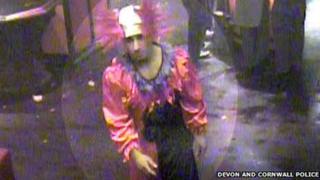 A man dressed as a clown is being hunted by police after attacks in a Plymouth nightclub left one man with a broken jaw and another concussed.
Two men were assaulted in separate attacks in the men's toilet at Crash Manor on Union Street.
A 37-year-old victim was hit in the back of his head and a 23-year-old was punched in the face.
Devon and Cornwall Police have been unable to trace the clown over a month since the attacks.
Detectives have issued an image of the man dressed as a clown in the hope the public can help them progress the case.
Officers said a 37-year-old local man suffered whiplash and concussion and a 23-year-old was left with a fractured jaw.
The assaults took place in the early hours of 1 November.
A police spokesman said: "Police have been unable to identify the suspect and have therefore released images in the hope it might jog the memory of anyone who was out in Union Street that night."