Devon pothole vigilante hired by council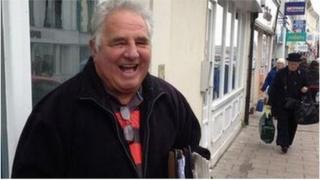 A pothole vigilante who took road repairs into his own hands has been taken on by his local council.
Devon County Council saw Reg Winsor's repairs to a pothole called "The Crater" in Newton Abbot.
Former builder Mr Winsor, 72, took just 15 minutes to fill the hole using a friend's tarmac and tools.
Now he has nearly 50 pothole repair volunteers dubbed "Reg's Army" and has been offered as much tarmac as he needs.
Mr Winsor, from Ilsington on Dartmoor, said: "The Crater was so big we suggested putting a handrail around it to stop anyone falling on to it.
"But having complained about it 17 months ago, nothing was being done.
"I thought I'd get down on my hands and knees and do it myself," he added.
He was given the tarmac and a thumper by a local contractor friend and filled the hole in early one morning.
The following day two men from the council's highways department came to see him and suggested he go on a course to get a certificate and become an official Road Warden.
Mr Winsor has had offers of help from about 50 other people.
Devon County Council, which has an estimated roads repairs backlog of £758m, welcomed the volunteer road repairers.
It spends £1bn every year maintaining its 8,000 miles of roads. The authority is attempting to save £3.4m, partly by cutting jobs in its neighbourhood highway teams and involving local communities.
Councillor Stuart Hughes, cabinet member for highway management, said: "Devon County Council is looking to respond positively to offers of help that we've received from local members of the community like Reg.
"The volunteers would be trained to specific levels required to enable them to carry out work ranging from weed clearance and sign cleaning to grass and hedge cutting, and small pothole and surface defect repairs."
Mr Winsor sees nothing wrong in doing what the council are paid to do via council taxes.
"There is no money to do it, so what we are meant to do, sit on our backsides and do nothing?
"We are British and most of us Brits want to do something about it."