Hallsands to 'keep fighting for sea defence repairs'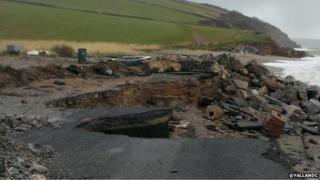 Residents of a Devon village damaged by storms say they will "keep fighting" for sea defences despite government refusals to change a local policy.
February's heavy waves battered defences in Beesands and Hallsands.
But Hallsands has not been designated for intervention despite residents paying £20,000 towards better defences.
Writing to villagers, Minister Oliver Letwin said the decision was a "reasonable one", but that he would monitor the situation.
No authority-funded repairs were permitted because of the no-intervention policy.
The decision was reached under the local Shoreline Management Plan produced in 2011 by the South Devon and Dorset Coastal Authorities Group, made up of local councils.
Shoreline Management Plan, considered factors including:
Number of households at risk
Impact on agricultural land and the farming community
Impact on the environment and wildlife
Whether erosion affects local community infrastructure and transport
West Dorset MP and Devon flood recovery minister Mr Letwin visited in June and heard arguments about maintaining the defences.
Local fisherman Tim Lynn said people would "keep fighting".
He said: "We need just a little bit of money. We're not asking for millions, we just need a few quid to keep Hallsands."
Campaigner David Marcer said it was "illogical" that Hallsands was not getting defence work carried out but neighbouring Beesands and Torcorss were.
He said: "We're the only village on the south side of Start Bay not designated as worth saving."
Mr Letwin told the BBC in a statement the government's first priority was to "defend the coastline where it is sustainable to do so".
He said that, after attending meetings with South Hams Council and the Environment Agency, he believed the current policy was "reasonable, particularly when considering the need for prioritisation across the country".
He added he would "continue to monitor developments".