Devon mother and child rescued from blaze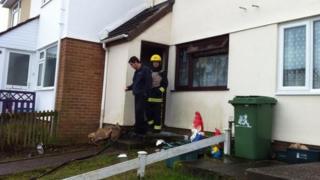 A mother and child were rescued from a blazing house by a neighbour who braved the flames to get them out of a first floor window.
The neighbour, who has not been named, put a ladder up to the window to get them to safety before firefighters arrived in Torrington, Devon.
No-one was injured in the fire, which started at about 06:30 GMT.
Firefighters said the occupants were lucky to get out alive because the house was not fitted with smoke alarms.
Fire investigator Peter Bond said the neighbour did a "fantastic job" rescuing the pair.
"He was alerted by cries from the front bedroom window," he said.
"He grabbed a ladder and affected a rescue by getting the occupants down and away from the building."
The fire had started by accident in the kitchen.
Mr Bond said: "Smoke detectors save lives and we encourage all householders to install them."